Title reads like a cross-section of society. What did you expect? So, now Facebook is an illness? The internet a drug? Hello ? They're all battling back and forth just trying to get a piece of Facebook. And if you read our Malware and Phishing updates, Facebook is appearing there too! If it's going on in the news surrounding Facebook, you'll read about it in the Facebook Infomanager :
* "Frenemies" Facebook and Twitter's latest clash leaves Vine app in cold
* American Psychiatric Association poised to declare Internet a drug
* Amazon Takes On Google, Facebook & Dropbox By Adding Auto-Uploads
* Facebook's Sheryl Sandberg attacks gender stereotypes at work
* 'One Million Likes' on Facebook for a Puppy, Clothing, Sex
* It's not just you: Facebook envy makes people miserable
* Report: Facebook Bans New Yandex iOS Search App, Wonder
* OC man used Facebook to set up porn shoot, assault boy
* Addicted to Facebook? Study shows users are lonelier
* Facebook Profile May Expose Mental Illness
* Ban sex offenders from Facebook?
. . . and more
---
Ban sex offenders from Facebook?
A federal appeals court overturned an Indiana law barring registered sex offenders from websites such as Facebook. Comments are from Twitter and Facebook:
Where in the Constitution are we granted the right to use Facebook?

Full story : USA TODAY
---
'One Million Likes' on Facebook for a Puppy, Clothing, Sex
It started in November with a cat. The Urbano children of Newton, Mass. had an agreement with their parents. If they could get a thousand "likes" on a Facebook photo plea for a pet cat, the cat would be theirs. The Internet was more than happy to oblige, scoring them over 110,000 thousand "likes" and a new furry friend.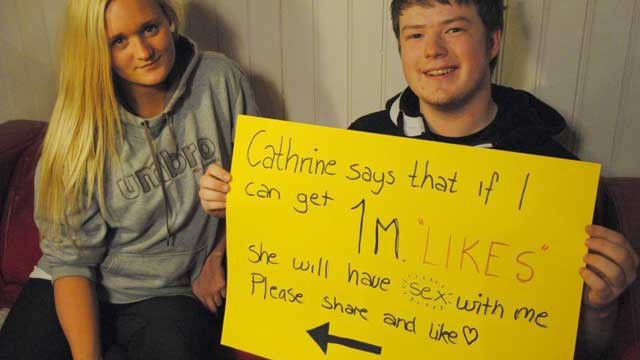 Then last week, five kids from the Cordell family of Boston decided to up the ante. They asked for a million "likes" to convince their parents that they should have a pet puppy. The Cordells reached that goal in less than 14 hours … and a meme was born.

Full story : ABC News
---
"Frenemies" Facebook and Twitter's latest clash leaves Vine app in cold
Facebook and Twitter have been carrying on a relationship of late that sounds like the topic of an advice column in a women's magazine. The most recent battle between these "frenemies" has Twitter's new video-sharing app "Vine" at the epicenter, as Facebook has reportedly blocked information sharing with the app.
According to the tech blog All Things D, within hours of Twitter's launch of Vine, Facebook cut off access to its "find people" feature. When attempting to connect to Facebook, Vine users are left with an error message. Users who want to connect to friends on the social network will have to find a workaround.

Full story : www.cbsnews.com
---
OC man used Facebook to set up porn shoot, assault boy
A registered sex offender in Orange County has been charged with sexually assaulting an underage teen he met on Facebook, allegedly telling the 17-year-old that he was a pornography director and wanted to cast him for a film, prosecutors said.
Chris Glen Phernambucq, 31, was charged Thursday with felony counts related to the sexual assault of a minor and creating and possessing child pornography, according to a statement from the Orange County District Attorney's office.

Full story : Los Angeles Times
---
Facebook's Sheryl Sandberg attacks gender stereotypes at work
Sheryl Sandberg, the chief operating officer of Facebook, has launched a fierce attack on the gender stereotypes that hold back women at work at the World Economic Forum in Davos.
Sandberg, who is publishing a book called Lean In on women in the workplace in March, singled out T-shirts sold in the US, with the boys' version emblazoned with the words "Smart Like Daddy", while the girls' version says "Pretty like Mommy".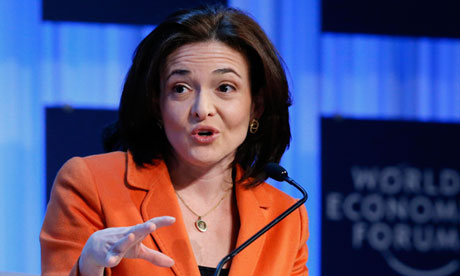 Sheryl Sandberg of Facebook said women were still expected to take on most caring responsibilities at home. Photograph: Pascal Lauener/Reuters

Full story : The Guardian
---
Facebook Profile May Expose Mental Illness
A person's Facebook profile may reveal signs of mental illness that might not necessarily emerge in a session with a psychiatrist, a new study suggests.
"The beauty of social media activity as a tool in psychological diagnosis is that it removes some of the problems associated with patients' self-reporting," said study researcher Elizabeth Martin, a psychology doctoral student at the University of Missouri. "For example, questionnaires often depend on a person's memory, which may or may not be accurate."

Full story : Yahoo! News (blog)
---
Report: Facebook Bans New Yandex iOS Search App, Wonder
Russian search giant Yandex has released an iOS app that essentially marries Google with your favorite social networks, adds a Siri-like twist, and spits out data like what news your friends are following or restaurants they've recently visited.
The new social search app, know as Wonder, launched Thursday in the U.S. only, and focuses on three topics — places, music, and news — and limited types of questions, according to the Wonder blog.

Full story : PC Magazine
---
Amazon Takes On Google, Facebook & Dropbox By Adding Auto-Uploads
Look out, Google, Facebook and Dropbox? Amazon has now added automatic mobile photo uploads to its Amazon Cloud Drive Photos Android app, in an update released yesterday evening.
The functionality makes the otherwise fairly bare bones photos app more of a competitor in the space, given that Google (via its Google+ app), Dropbox, and Facebook (iOS-only for now), have all recently eased the collection of users' photos from smartphones and tablets by introducing automatic uploading features to their respective mobile applications.

Full story : TechCrunch
---
It's not just you: Facebook envy makes people miserable
Two German universities conducted a joint research which revealed that many Facebook users are left with feelings of envy, misery, and loneliness after virtually being witness to their friends' love lives, vacations, and work successes.
The researchers from Humboldt University and Darmstadt's Technical University conducted two studies involving 600 people. In the first study, they looked at the "scale, scope and nature of envy incidents triggered by Facebook" and in the second they examined the links between Facebook use, envy triggers, and general life satisfaction.

Full story : Today.com (blog)
---
Addicted to Facebook? Study shows users are lonelier
It turns out that as many as one in every three people who use social media like Facebook experience feelings of jealousy and envy after spending time on these sites, according to a new study.
With the growing use of social media as the norm for how we communicate, there is increasing evidence and suggestion that there may be a correlation between how often one uses social media and a linkage to mental health issues. The fact that a significant percentage of people check Facebook even before they get out of bed is an indication of the social anxieties and pressures that have been created by this new medium.

Full story : Fox News
---
American Psychiatric Association poised to declare Internet a drug
The next edition of psychiatry's diagnostic manual, the Diagnostic and Statistical Manual V, will include a listing for Internet-Use Disorder as a condition worth studying.
Stopping short of creating the diagnosis in this edition of the manual (number 5), creators of the DSM have, nonetheless, the set the stage for possible inclusion of Internet-Use Disorder as a recognized illness in future editions.

Full story : Dr. Keith Ablow — www.foxnews.com
---
Thanks for reading . . .
The User Group Network and InfoManager welcome your press releases and reviews of books and software for publication in the UG Network News and the InfoManager.
POST: hour article or news

Contact: http://www.ugnn.com/contact/

Grab the UGNN NEWS feed