iPhone 5 is here and everyone is estatic … well, at least most everone — so shere just a corner of the news …
* Early buyers of the iPhone 5 don't mind lack of NFC, Lightning port adapter
* IPhone 5 Limits Set to Spark Samsung Discounts in Europe
* Smuggled iPhone 5s Sell for as Much as $3700 in Moscow
* Entire iPhone 5 shipment stolen from London O2 store
* Fans line up for Apple's new iPhone 5 in DC area
* How to Set Up Your New iPhone 5 the Right Way
* iPhone 5 Fever? Don't Count Samsung Out
* Selling the LTE iPhone Without LTE
* iPhone 5: The wait is over
and more…
---
iPhone 5: The wait is over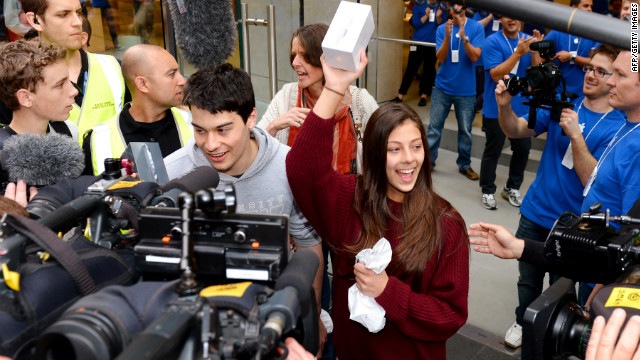 In what's become an annual rite, thousands of diehard fans of Apple's iconic smartphone endured long overnight lines outside Apple retail stores around the world to be among the first Friday to buy the new iPhone 5.

Full story : CNN
---
How to Set Up Your New iPhone 5 the Right Way
You got a new iPhone 5! Now what? Here's a how to get started with a new iPhone, whether you're a first-timer or an iOS pro.
As with any smartphone, the iPhone's weakest link is its battery. Treating your Li-ion with respect will not only extend the life and usefulness of your new phone, but also boost its resale value — just in case you decide to dump to back on the market prematurely. Lucky for you, Palm, Apple, offers some guidance about how to care for your phone's battery.

Full story : Gizmodo
---
Early buyers of the iPhone 5 don't mind lack of NFC, Lightning port adapter
Long lines formed for days outside of Apple stores in major cities to buy the iPhone 5 today, but smaller crowds also gathered in college towns like Harrisonburg, Va., where the longest wait was overnight in front of the AT&T and Verizon Wireless stores.
Bryan Moore shows off his new iPhone 5. He waited overnight outside the Verizon wireless site in Harrisonburg, Va., to be first in line.

Full story : Computerworld
---
iPhone 5 Fever? Don't Count Samsung Out
By many measures, Samsung Electronics should be on the ropes. Last month, it lost an important patent battle with its rival Apple after a jury in the United States ruled that Samsung had illegally copied aspects of Apple'sgroundbreaking iPhone.
Apple introduced its newest model, the iPhone 5, to enthusiastic reviews and a worldwide consumer frenzy, with customers lining up to buy the new model days before it arrived in stores on Friday. This week, Apple shares hit a record high and cracked the $700 threshold.

Full story : New York Times
---
IPhone 5 Limits Set to Spark Samsung Discounts in Europe
Apple iPhone 5, which bars customers of some European carriers from accessing the fastest available mobile networks, will prompt those operators to cut prices for handsets from rivals such as Samsung Electronics Co.
The iPhone 5, which went on sale today, will connect to fourth-generation wireless networks in Europe that run on an 1,800 megahertz band, favoring carriers who do have a network attuned to that frequency, including Germany'sDeutsche Telekom AG (DTE) and its British EE venture with France Telecom SA. (FTE) Vodafone Group Plc (VOD) and Telefonica SA (TEF)'sO2 unit will only be able to offer the iPhone 5 on their slower 3G networks.

Full story : Businessweek
---
Selling the LTE iPhone Without LTE
For wireless carriers, the new iPhone'sfaster data connection offers an opportunity and a challenge: People might pay more to use more data, but for AT&T T +0.37% and Sprint, the new iPhone is highlighting the fact that the carriers' LTE networks only cover a fraction of the U.S.
Sprint, with an LTE network that covers just 19 cities, faces the biggest challenge. But at a Sprint store in Brooklyn, N.Y., Friday morning, the customers who cleaned out the store'siPhone 5 supply within minutes of its 8 a.m. opening didn't seem to care much.

Full story : Wall Street Journal (blog)
---
Smuggled iPhone 5s Sell for as Much as $3700 in Moscow
In the days of the Soviet Union a tourist in Moscow could pay for his or her entire trip by selling a suitcase full of smuggled Levi's jeans. Now, one could make substantially more sneaking a handbag full of the latest Apple products into Russia.
In this image conscious city, where Bentleys are so common that many owners simply curb park them, plenty of people are willing to plunk down some serious cash to be among the first in the country with the latest device.

Full story : ABC News
---
Fans line up for Apple's new iPhone 5 in DC area
The long-awaited release of Apple'siPhone 5 has arrived, and eager customers in the Washington area and around the world are scrambling to get their hands on the new version of the iconic smartphone.
Fans in Washington, New York and other cities camped out in front of Apple stores overnight in hopes of snagging an iPhone when U.S. locations opened Friday morning.

Full story : Washington Post (blog)
---
Entire iPhone 5 shipment stolen from London O2 store
Police want to question an O2 shop assistant over the theft of iPhone 5 handsets from one of the operator's stores in London.
Around 250 handsets, worth about 100,000, were stolen from the O2 Store in the Tandem Centre in Colliers Wood near Wimbledon at 1.30am this morning. The stolen devices included the store's entire stock of iPhone 5 smartphones that were due to go on sale at 9am the same day.

Full story : ZDNet
---
Thanks for reading . . .


Editor / Publisher: InfoManager
The User Group Network and InfoManager welcome your press releases and reviews of books and software for publication in the UG Network News and the InfoManager.
POST: Your article or news

Contact: http://www.ugnn.com/contact/

Grab the UGNN NEWS feed