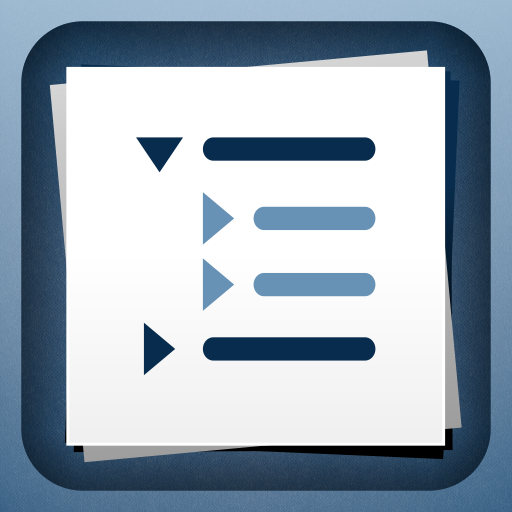 X-Wave Soft has introduced Cloud Outliner 1.0 for iPhone, iPod touch, and iPad. It enables the creation and editing of outlines, the text format that has been shown to be the most effective in organizing and sharing ideas. Featuring drag n' drop simplicity and powerful outlining tools, the app syncs automatically with all of the user's iDevices via iCloud and also supports one-touch sync with Evernote, the most popular note-taking apps for iOS. With OPML import/export (Outline Processor Markup Language) and plain text export, the app is for organizing, editing, saving, and sharing information.  It is no coincidence that personal computers operate using a HFS, Hierarchical File System. Top to bottom branching is the most efficient and simple method of organizing any information. And an outline uses the same hierarchical method to illustrate the connection of a major topic, idea, or piece of information to related topics, ideas, and information. Nested categories, from major, to minor, to sub, to sub-sub categories provide an instant overview of the structure of any collection of data, notes, etc.
Feature Highlights:
iCloud: sync outlines between your iDevices
Sync outlines with Evernote
Send outlines by email in Plain Text or OPML formats
Import outlines from other apps in OPML format
Select multiple rows to reorder, change indentation, or delete them all
Copy & Paste rows between outlines and even other apps (Notes, Mail, Safari etc.)
Drag and Drop to reorder or change indentation
Checkboxes
Hide checked lines or sub-categories
Portrait & Landscape mode support
Clear and simple interface
Designed for iPhone, iPod touch and iPad
Offering unfettered access to outline creation and editing, Cloud Outliner supports a host of sharing options. First, the app offers auto-sync between iDevices via iCloud. Second, the app supports auto-sync with Evernote. Third, the app allows export of outlines in either plain text or OPML formats. Finally, users can easily import formatted outlines from other apps via OPML import.
Creating a new outline in Cloud Outliner is done with the touch of a single button. Building hierarchies is done with a single swipe. For example, the user might create an outline entitled My Favorite Foods. He or she might then start with the category Fruits, listing six favorite fruits beneath. With a single swipe from left to right, Fruits is indented one tab. Similarly, each listed fruit is indented two tabs. A user can manually or automatically add to any level of indentation, and can drag any item to any level of hierarchy already established. The app automatically keeps track of each entry and all the hierarchical levels beneath it, prohibiting improper outline formatting.
Having created an initial outline, users can easily save or edit it. Editing is simple and intuitive, allowing the selection of multiple lines (including nested entries or columns). Entire hierarchies can be moved up or down in the outline, their items reordered, and indentations changed, or the entire group can be deleted. Within the app, it is easy to cut & paste from one outline to another, or paste into another app, such as Notes, Mail, Safari, etc.
Cloud Outliner functions in both landscape and portrait orientation and uses a streamlined GUI that lets users make and adjust outlines without any restrictions whatsoever. An additional convenience features is checkboxes, which can be inserted in front of any entry. This allows users to filter out checked items when displaying the outline, e.g. completed items in a to-do outline.
"Whether you're plotting a novel, preparing to move, planning Christmas gifts, or starting on a research proposal, you will organize your thoughts more clearly and effectively by creating an outline," stated Denys Yevenko of X-Wave Soft. "And Cloud Outliner makes outline creation, editing, sharing, and syncing easier than any iOS app available."
Device Requirements:
Compatible with iPhone, iPod touch, and iPad
Requires iOS 4.0 or later
10 MB
Pricing/Availability:
Cloud Outliner 1.0 for iPhone, iPod touch, and iPad is $2.99 (USD) and available worldwide exclusively through the App Store in the Productivity category. Review copies are available on request.
Cloud Outliner 1.0: http://xwavesoft.com/cloud-outliner-for-iphone-ipad.html
Purchase and Download: http://itunes.apple.com/app/cloud-outliner-outline-creator/id542911846
YouTube Video: http://www.youtube.com/watch?v=o58Oc-_J0gM
Screenshot 1 :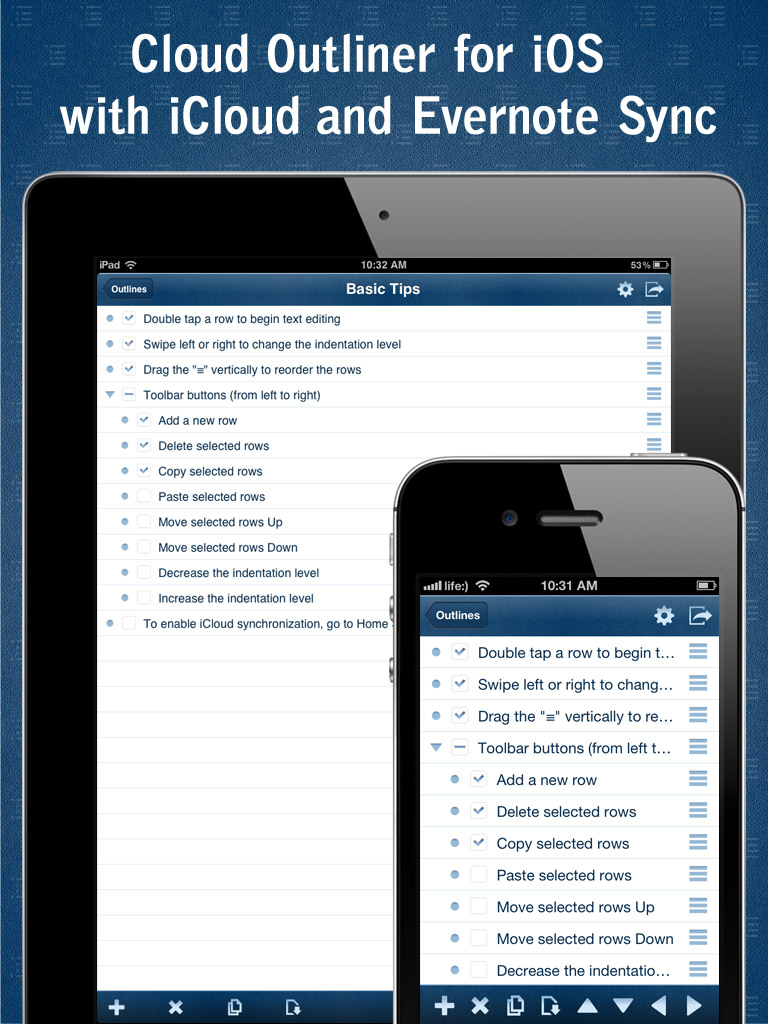 Screenshot 2 :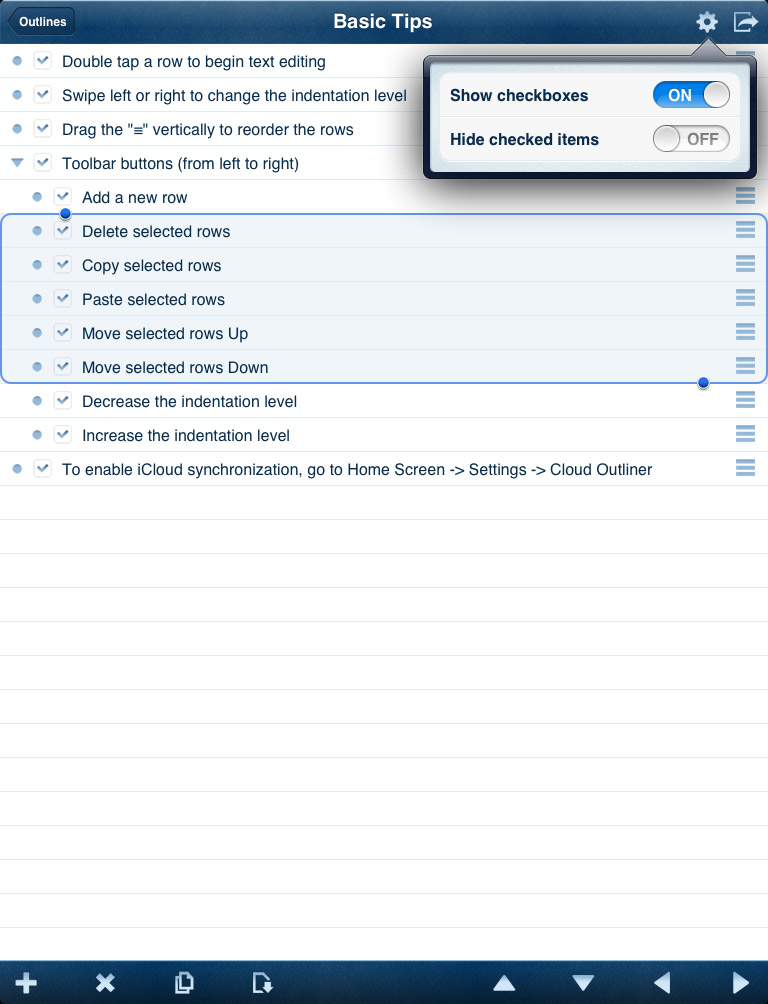 Based in Odessa, Ukraine, X-Wave Soft is a privately owned software development company founded in 2009 by Denys Yevenko. X-Wave Soft is focused on developing high-quality iOS and OS X applications. Long-term experience and professional expertise of the company's management and personnel guarantee the high quality of its products. Copyright (C) 2012 X-Wave Soft. All Rights Reserved. Apple, the Apple logo, iPhone, and iPod are registered trademarks of Apple Inc. in the U.S. and/or other countries. Other trademarks and registered trademarks may be the property of their respective owners.