Every once in a while we like to snoop into the world of crowdsourcing just to see what all is going on … this spring seems to be busing at the seams with interesting and innovative uses of crowdsourcing
Just a few 'hits' … 4 Crowdsourcing Projects Making Hippies Smile
* interview: Lukas Biewald, co-founder of CrowdFlower
* The Power Of AngelList Revealed In Its New Look
* Gamers & Genomics: Crowdsourcing DNA Research
* Crowdsourcing Neighborhood Changes
* AskYourUsers.com Uses LinkedIn
Let's see … is crowdsourcing the next wave?
---
4 Crowdsourcing Projects Making Hippies Smile
Ideally we want to find the best solutions for the worst problems. Why? Because we're deep down, mostly good, aren't we? Yes, crowdsourcing can be a super hero, a Captain Planet, & when it comes to solving world problems, it has the upper hand because it allows anyone with an Internet connection to participate in any problem solving challenge, increasing the chances of finding a good and viable solution.
Luckily, Crowdsourcing and the Internet came along. Here's four ways that educated crowds REALLY are helping the planet

Full story : Daily Crowdsource
---
Gamers & Genomics: Crowdsourcing DNA Research
People around the world spend an estimated 3 billion hours playing computer games every week. That might seem like a colossal waste of time, but scientists are starting to harness some of that effort to solve vexing problems in biology. Take, for example, a game developed by a pair of scientists in Canada. Ari Daniel Shapiro of our partner program NOVA reports.
Jerome Waldisp and Mathieu Blanchette are sitting at their laptops in a lab at McGill University in Montreal. The men are computer scientists, and they're playing a game they developed.

Full story : Ari Daniel Shapiro – The World
---
Crounty, a New Startup from Fast Company's CTO, Lets You Offer Rewards
Need to rent out your apartment or hire a new designer? Crounty lets you offer a bounty to incentivize crowdsourcing.
Crounty, a new venture from Fast Company CTO Matt Mankins that takes its name from a portmanteau of 'Crowd' and 'Bounty,' launched on Wednesday for one simple reason: Sometimes you need help from the crowd to locate talented programmers or trusted subletters, and sometimes the things you need help with are so important that you're willing to pay a bounty for them. Crounty is a platform that lets you do just that.

Full story : Betabeat
---
Crowdsourcing Neighborhood Changes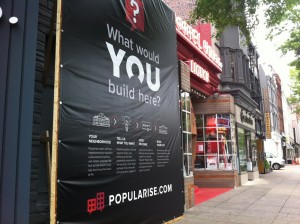 Businesses play an important role in the transformation of neighborhoods. A certain restaurant or store can attract newcomers, make a block seem 'desirable' or become a gathering spot.
But as it stands now, the public generally doesn't have a say on what specific businesses open up in their neighborhoods, says developer Ben Miller. Should that vacant storefront be a coffee shop or a pet store?

Full story : WAMU.org
---
The Power Of AngelList Revealed In Its New Look
AngelList is looking to level the playing field, and harness the power of the crowdsourcing models to connect great ideas to the capital that can get them off the ground. But some have worried that the crowdsourcing model will encourage the herd mentality, and, with scale, potentially end up with an unfavorable ratio of noise to signal.
Although its value may not have been apparent to all at the outset, AngelList has proven to be a remarkably effective way for investors to connect with entrepreneurs.

Full story : TechCrunch
---
Mercury News interview: Lukas Biewald, co-founder/CEO, CrowdFlower
With scores of flirtatious users trying to post risque photos of themselves on popular location-based dating app Skout, the site needed eyeballs to screen every submission. Lots of eyeballs.
So they turned to venture-funded CrowdFlower, a leading crowd-sourced labor firm that farms out online "microtasks" to contributors doing digital piecework for a few extra bucks. The idea: Harness the power of the masses to collaborate in real-time on a large problem. The assignment from Skout: Help us stem the tide of booty calls.

Full story : San Jose Mercury News
---
New Crowdsourcing Launch: AskYourUsers.com Uses LinkedIn To Help You Find
Crowdsourcing and crowdfunding have been two of the biggest trends to effect how businesses — especially small businesses and sole traders — raise money, with sites like Kickstarter.com and in the UK Funding Circle attracting a attention for being a great way of getting backing for projects or business ideas bypassing the traditional and expensive world of bank loans in the process.
Now a site is launching that gives this model an additional twist: AskYourUsers.com is a simple service that helps you find people for microconsulting projects lasting no more than 15 minutes — and it uses your LinkedIn network to help you find them.

Full story : TechCrunch
---
And that's just the beginning …
As always, the User Group Network InfoManager welcomes your news, views and reviews on just about any topic relating to computing, technology or the internet. Send'em in for publication in the UG Network News and the InfoManager.
POST: your article or news

Contact: http://www.ugnn.com/contact/

Grab the UGNN NEWS feed